SpaceX delays Dragon cargo ship departure from space station due to splashdown weather. How to watch it Sunday.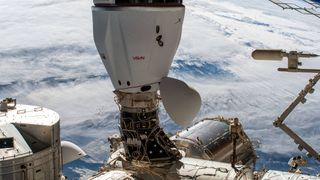 The SpaceX Dragon CRS-24 cargo ship will undock from the International Space Station's space-facing docking port on the Harmony module on Jan. 22, 2021.
(Image credit: NASA)

SpaceX postponed the departure of its latest Dragon cargo ship from the International Space Station on Saturday (Jan. 22) by at least a day due to bad weather at its landing site. You can watch the next undocking attempt live on Sunday, NASA said.
The Dragon CRS-24 cargo ship was scheduled to undock from the space station at 10:40 a.m. EST (1540 GMT) on Saturday and return to Earth early Monday morning. But bad weather at potential splashdown locations in the Gulf of Mexico off the Florida coast prevented the departure, according to SpaceX.
"SpaceX and NASA have waived off today's planned departure of an upgraded SpaceX Dragon resupply spacecraft due to high winds in the splashdown zones at the Gulf," NASA spokesperson Sandra Jones said during a NASA TV update Saturday.
You can watch SpaceX's Dragon CRS-24 spacecraft depart the space station live on this page Sunday, courtesy of NASA TV, beginning at 10:15 a.m. EST (1515 GMT). Undocking is scheduled for 10:40 a.m. EST (1540 GMT), splashdown weather permitting.
Related: Live updates from the International Space Station
There will be no live coverage of SpaceX's Dragon splashdown, though it is expected to occur either late Monday or early Tuesday, weather permitting. Updates on splashdown will come through NASA's space station blog and SpaceX's Twitter page.
The Dragon cargo ship will return nearly 5,000 pounds (2,267 kilograms) of science to Earth when it splashes down, including a "cytoskeleton" that uses cell signaling to understand how the human body changes in microgravity. A 12-year-old light imaging microscope that is being retired after more than a decade of use studying the structure of matter and plants in orbit is also on board.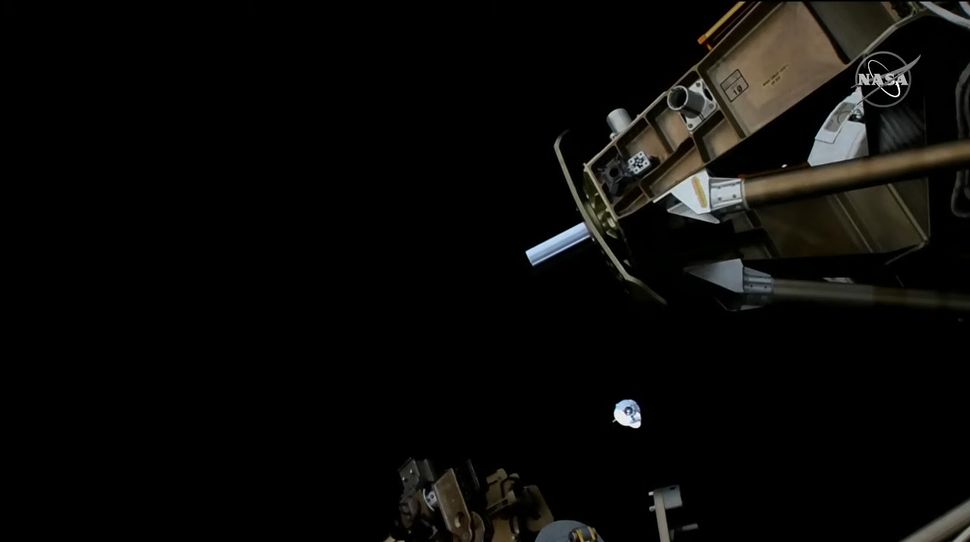 The capsule was originally targeting Friday to undock and Saturday to splash down, but the procedure was delayed by a day due to poor weather conditions for returning. If the Dragon had undocked Saturday morning, it would have splashdown in the wee hours of Monday, according to NASA.
The Dragon spacecraft blasted off on its cargo mission, called CRS-24, Dec. 21 atop a SpaceX Falcon 9 rocket and delivered both science and a set of early Christmas presents to the orbiting complex two days later.
Dragon is the only cargo ship that can fly scientific experiments back to researchers on Earth, as all other such spacecraft burn up in the atmosphere during re-entry. Dragon is often used to carry back biological samples that must be transferred to a scientific facility quickly; splashing down in the Atlantic Ocean will allow for rapid transfer of samples to NASA's Kennedy Space Center in coastal Florida, east of Orlando.
Members of the Expedition 66 crew have been packing up and organizing Dragon supplies for at least the last two weeks, according to NASA's space station blog, including swapping out science freezer components that will host the precious refrigerated science samples.
Editor's note: This story was updated to reflect the 24-hour weather delay for SpaceX's Dragon CRS-24 spacecraft undocking at the International Space Station.
Follow Elizabeth Howell on Twitter @howellspace. Follow us on Twitter @Spacedotcom and on Facebook.
Join our Space Forums to keep talking space on the latest missions, night sky and more! And if you have a news tip, correction or comment, let us know at: community@space.com.
Elizabeth Howell, Ph.D., is a contributing writer for Space.com since 2012. As a proud Trekkie and Canadian, she tackles topics like spaceflight, diversity, science fiction, astronomy and gaming to help others explore the universe. Elizabeth's on-site reporting includes two human spaceflight launches from Kazakhstan, and embedded reporting from a simulated Mars mission in Utah. She holds a Ph.D. and M.Sc. in Space Studies from the University of North Dakota, and a Bachelor of Journalism from Canada's Carleton University. Her latest book, NASA Leadership Moments, is co-written with astronaut Dave Williams. Elizabeth first got interested in space after watching the movie Apollo 13 in 1996, and still wants to be an astronaut someday.