Denley: Ottawa voters have good choices for city council — sadly, many of them are competing
When choosing a city councillor, look for connection to the ward, a history of community involvement and relevant life or work experience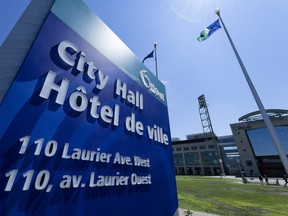 Despite all the veteran politicians who have told us what a terrible job being a city councillor is, an abundance of good candidates have stepped up to provide a new generation of leadership at City Hall. Unfortunately, many of them are running against each other.
Judging by the list of announced candidates just days before Friday's deadline, the ward races fall into three categories; the predictable, the well contested, and those where there isn't an obvious strong contender.
Let's get the bad news out of the way. Sitting councillors Matt Luloff, Theresa Kavanagh, Tim Tierney and Riley Brockington are all lightly opposed. Laura Dudas and Rawlson King still have no opponent. Whatever those councillors' merits, voters deserve a credible choice. For example, in Stittsville the perfectly adequate Glen Gower is being challenged by community volunteer Tanya Hein.
In many wards, the picture is much brighter. While it's difficult to assess a candidate's value without seeing them in action, voters should be looking for connection to the ward, a history of community involvement and relevant life or work experience. Warning signs are no website, no contact information and late entry into the race, although that latter point is not necessarily a disqualifier.
Some good councillors are not running again and it's essential to replace their leadership. Two names that stand out in that regard are Steve Desroches and Patrick McGarry. Desroches is a former city councillor who vowed to quit after two terms and did in 2014. He's running in Riverside South-Findlay Creek. Desroches was a moderate and sensible councillor. We need him back. McGarry is the chief operating officer of Hulse, Playfair and McGarry Funeral and Cremation Services. He would bring welcome and rare business experience to council. Better yet, McGarry is running in College Ward, where Coun. Rick Chiarelli either won't run or won't win.
Barrhaven residents, who have two wards now, have a rich choice in both. In Barrhaven East, Pat Brennan, a school trustee and financial planner, brings relevant experience but he's part of a strong, five-person field. In Barrhaven West, Taayo Simmonds, a Black lawyer, and military veteran David Hill are worth careful examination.
Kanata will also contribute to the new council. Cathy Curry, appointed to council to fill out the remainder of Jenna Sudds's term, has quickly become a major contributor and has earned re-election. In Kanata South, veteran councillor and transit commission chair Allan Hubley is opposed by three credible female candidates.
In West Carleton-March, there was some concern about who would step up to replace veteran Coun. Eli El-Chantiry, who made a late decision not to run. There are seven candidates in the race. Dunrobin tech executive and community association president Greg Patacairk seems to have a lot to offer.
Voters also have good choices in Alta Vista, where public servant and community association president Marty Carr is competing against Carolyn Kropp, who works for MPP John Fraser. In Orleans South-Navan, Coun. Catherine Kitts is up against Yvette Ashiri, a Black public servant with a record of accomplishment.
In Rideau-Jock, two candidates with roots in the community seem to be the leading contenders. Leigh-Andrea Brunet works in continuing education and David Brown has a background in farming and as a political assistant at city hall. Osgoode could be another interesting rural fight. Coun. George Darouze is being opposed by former councillor Doug Thompson, among others.
Knoxdale-Merivale pits Sean Devine, a former NDP candidate federally and provincially, against Myles Egli, the brother of retiring Coun. Keith Egli. Several others are also running.
In other wards, it's difficult to see candidates of the calibre of Diane Deans, Mathieu Fleury and Catherine McKenney. The first two have retired and McKenney is running for mayor.
As it looks now, there will be some weak new councillors elected in October, and some weak veteran councillors re-elected. That's why it's critical for voters in wards with good choices to pick carefully.
Randall Denley is an Ottawa political commentator and author. Contact him at randalldenley1@gmail.com
Ottawa Citizen Headline News
Sign up to receive daily headline news from Ottawa Citizen, a division of Postmedia Network Inc.
By clicking on the sign up button you consent to receive the above newsletter from Postmedia Network Inc. You may unsubscribe any time by clicking on the unsubscribe link at the bottom of our emails. Postmedia Network Inc. | 365 Bloor Street East, Toronto, Ontario, M4W 3L4 | 416-383-2300