Pasta Con Broccoli
By: Naomi Sherman
One surprise ingredient gives this classic pasta dish a flavour boost; you'll know when you get to it. I love to use orecchiette but any small-sized pasta would work. Quick to throw together, this recipe makes an easy weeknight dinner.
---
---
Ingredients
800g broccoli florets
500g package orecchiette pasta
2 tbsp olive oil
1 small onion, finely diced
4 cloves garlic, finely chopped
½ tsp chilli flakes
1 tsp Vegemite
500mL vegetable stock
1 lemon
---
Method
Separate the broccoli florets into smallish pieces and boil for 8 mins.
Remove broccoli and set aside.
Cook the pasta in the broccoli water.
While it cooks, heat olive oil and sauté the onion, garlic, chilli and Vegemite.
Add the broccoli to the pan, add the stock and cook for 5 mins longer.
Gently mash the broccoli with a fork to form a rough sauce, and add ¼ cup of the pasta water to help create a silky sauce.
Add the zest of the lemon and then season to taste.
Finally, toss the orecchiette through and serve garnished with a squeeze of lemon juice and a sprinkle of chilli flakes.
---
Subscribe
Subscribe to a newsletter to receive latest post and updates
Naomi Sherman
We Love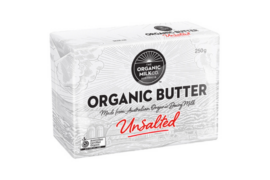 Unsalted Butter : The Organic Milk Co.
Sliced Organic Cheddar Cheese: The Organic Milk Co
Organic Shredded Cheddar: The Organic Milk Co.
Salted Butter : The Organic Milk Co.